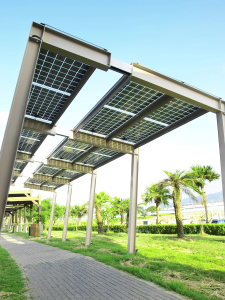 Many U.S. solar developers, possibly with an eye toward declining state and federal incentives on the horizon, have recently been casting their gazes toward foreign shores in an effort to diversify their pipelines. Despite having to contend with currency issues and political risk, doing so may not be a stretch to national developers who are already battle tested from navigating dozens, if not hundreds, of domestic policy jurisdictions.
Perhaps naturally, given proximity to the U.S., many such development efforts have focused on Central America and the islands of the Caribbean. It is also perhaps natural, that given its commitment to its natural resources, its stable political environment, and its relatively stable currency, that many developers have focused on Costa Rica. Unfortunately for the enterprising developer, recent reports have noted that the isthmian nation is already "totally environmentally friendly," using only energy from renewable sources in the first 75 days of 2015. That is no aberration, as close to 94% of its energy was generated by renewable sources in 2014. Additionally, the government is bringing a large geothermal facility on line soon. Given the state of affairs, U.S. solar developers looking to Costa Rica for short-term fixes to project pipeline shortages should probably cast their gazes elsewhere.
However, for those with a longer-term outlook, the future of solar in Costa Rica could be bright. Up to 80% of the energy capacity of Costa Rica is supplied by hydro-electric plants, which the nation hopes to decrease its dependence on given the impact that this generation source can have on the environment. Additionally, a positive long-term growth rate, a median age of around 30 years old, and successful governmental efforts to increase economic development all point to a rise in capacity requirements going forward.
The development cycle for large generation assets can be time consuming in Costa Rica, fraught with multi-step approval processes and bureaucracy, and complicated by rules about local ownership. These all serve as stimulants to begin work far before boots will actually hit the ground. Despite some current short-term market signals to the contrary, those who take the long-term positive view of solar in the land of "pura vida" would be prudent to take action sooner than later.
Please contact any member of the Energy Finance Team if you have questions regarding development in Costa Rica.