Sunny, tropical Puerto Rico may finally have a break through in solar development and investment. Although the island represents a solar opportunity today, renewable generation only represented 1% of the Caribbean territory's energy mix in 2012, despite high electricity prices and renewable friendly policies. The reason for the lack of solar development is likely due to poor investor confidence in the local utility as offtaker.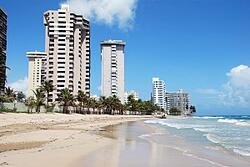 Despite a troubled recent past, the island's solar market outlook appears to be brightening. In 2014, the Puerto Rico Electric Power Authority (PREPA) lifted its ban on renewable procurement and reached final agreements with six solar companies that had to renegotiate contracts approved under the former administration. The moratorium on entering new offtake agreements was put in place the previous year as PREPA sought to renegotiate a number of finalized Power Purchase and Operating Agreements (PPOA), which all had materially the same terms with the exception of the pricing of the renewable energy credits (RECs), to help alleviate some of its debt concerns. The signed PPOAs offered solar developers 15¢ per kilowatt-hour (kWh) and a REC of 2.5¢ to 3.5¢ a kWh. Moreover, the contracts contained an escalation factor of about 2% annually, which was applied to both rates. Although unconfirmed, prior to its moratorium, PREPA's new offer was 10.4¢ per KWh, plus a variable energy charge of 2.6¢. This 2.6¢ charge would increase 2% annually.
Additionally, despite a credit downgrade in 2014, earlier this year a group of U.S. bondholders offered to invest $2 billion in energy production and other measures to help improve the finances and infrastructure of Puerto Rico's power company amid fears it will go bankrupt. Puerto Rico has few conventional energy resources, and petroleum imports are the dominant energy source for the island. During the time of high petroleum prices, PREPA sought to improve its generating assets and has struggled to pay back the $9 billion in bondholder debt issued to finance the upgrade, resulting in a debt downgrade and a negative outlook by Moody's Investor Services.
The increased investor participation with PREPA may serve to foster solar development projects under the mandatory Renewable Portfolio Standard (RPS) that became effective this year. The RPS requires that PREPA obtain 12% of its electricity from renewable sources starting in 2015, scaling up to 15% by 2020 and 20% by 2035. If bondholders can stabilize PREPA as an offtaker, the risks for solar investors and developers may become less precarious in the sunny territory. Moreover, there may be workable solutions to avoid PREPA altogether, such as entering into PPOAs with stable offtakers. For example, Ballester Hermanos, a food, wine, spirits and food-service distributor, entered a PPOA with Yarotek, a Miami based solar generation firm, to install a 874-kilowatt, roof-mounted solar array on Ballester Hermanos' distribution warehouse. Additionally, there may be microgrid opportunities as PREPA may support alternative grid infrastructure given its financial constraints.
Please contact any member of our energy practice if you have any questions on PREPA or the renewable landscape in Puerto Rico.