By Jeffrey Karp
As discussed in our posting covering continuing challenges to rebuild Puerto Rico's electrical grid, the Puerto Rico Electric Power Authority ("PREPA") has inhibited the recovery and redevelopment of the Island's energy system. On July 25, 2018, the U.S. Congress House Committee on Natural Resources held an oversight hearing to discuss the "Management Crisis at the Puerto Rico Electric Power Authority and Implications for Recovery." A panel of five witnesses – Bruce Walker (U.S. Department of Energy, Assistant Secretary of the Office of Electricity), Eduardo Bhatia (Puerto Rico Senate Minority Leader) and three energy and infrastructure advisors and consultants[1] – were present to testify and answer legislators' questions. Puerto Rico's Governor Ricardo Rosselló also was invited, but chose not to attend.
The hearing largely served to identify problems the Commonwealth of Puerto Rico currently is facing in seeking to rebuild its electrical grid, and provide perspectives regarding potential management, financial, and technical solutions. An issue repeatedly addressed was PREPA's mismanagement of the power system, and its appropriate role in future decision-making regarding the system. Senator Bhatia emphasized PREPA's mismanagement over the past 70 years. While he did not suggest eliminating PREPA entirely, he stressed the need for demonopolization, depoliticization, and the creation of an open energy market in which consumers could obtain energy through the deployment of microgrids. Microgrids allow for renewable energy to be generated and distributed close to the consumer, and may prove a more feasible option compared to traditional fossil fuel energy distribution, which requires transmission lines to cover many miles. If Puerto Rico's electric grid were rebuilt, it would require construction, maintenance, and repair of transmission lines across the mountainous terrain in the populous northern portion of the island – including the capital San Juan – across to the southern portion of the Island, where most of the power generation occurs. Support for microgrid implementation, as is discussed in our prior posting, was echoed by the panel's other witnesses.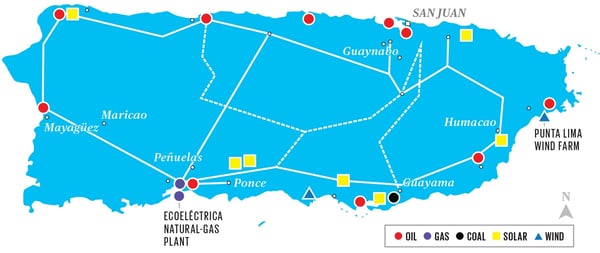 Although absent from the hearing, Governor Rosselló did submit written testimony. On June 20, 2018, the Governor signed legislation, House Bill 1481, that provides a path forward for private sector involvement in energy generation and distribution. Regarding generation, the intent of the legislation is to either fully privatize PREPA's assets or develop public-private partnerships. The legislation also provides that the electrical assets belong to the Commonwealth, but a consortium of companies would oversee energy distribution. The new law grants a period of 180 days for a special commission composed of the members of the Puerto Rican Senate, House of Representatives, and the Executive Branch to design a public policy and regulatory framework that will be used as a guide to award contracts and govern private sector transactions.
In his written testimony, the Governor stated that private sector involvement in the Island's electric grid will assure a "modern, reliable, resilient, sustainable, and affordable electric system…catalyz[ing] sustained and long-term economic growth and job creation." Several witnesses also favored privatization, which they opined may partially resolve concerns about PREPA's history of mismanagement. The Governor further stated that, while support from the federal government is welcome, "additional legislation vastly expanding the role of the federal government… is simply not warranted." Senator Bhatia, DOE Secretary Walker, and various House committee members agreed with the Governor's comments that federalization of PREPA is not – and should not be – a goal of the U.S. government.
Nonetheless, the witnesses and many representatives agreed that some type of additional oversight of PREPA is necessary due to its insolvency, low credit rating, political entanglements, and history of mismanagement. One witness, Thomas Emmons of Pegasus Capital Advisors – who oversees his company's renewable energy infrastructure investments – stated that PREPA must eliminate its debt and improve its credit to encourage private sector investment to help repower the Island. Following the hearing, on July 31, 2018, PREPA took a much needed step to improve its crippling financial condition; it reached a preliminary agreement with bondholders to restructure $9 billion of its debt. Notably, when asked at the hearing whether debt elimination and improved credit were the solution to the utility's problems, Mr. Emmons responded that these steps are only a star; depoliticization and oversight of PREPA also are necessary.
Politics has long infiltrated PREPA's decision-making and contributed to its organizational dysfunction. As recently as July 2018, the then current CEO of PREPA resigned stating it was "very clear [that] politics related to [his] compensation made it impossible for [his] contract to be fulfilled." The PREPA Board then named a replacement, offering a higher base salary. Governor Rosselló took exception to the deal, publicly tweeting that the PREPA Board members must reduce the offered salary or resign – further illuminating the infusion of politics into the utility's operation. The Board members offered their resignation, and Governor Rosselló appointed a new CEO who previously had worked at PREPA and was viewed as contributing to the agency's mismanagement.
While the recent legislation seeks to partially privatize the Island's electrical system, changes to PREPA's management regime were not addressed. Episodes such as described above raise concerns that the utility's institutional problems will continue to inhibit effective management practices.
The Committee hearing provided an opportunity for knowledgeable witnesses, federal government officials, and legislators to discuss the factors inhibiting the restoration and redevelopment of Puerto Rico's electrical grid. While the extent of any further federal government involvement remains to be seen, there was a general consensus that oversight of PREPA's management – removed from political influence – is a necessary starting point. Also potentially helpful is the preliminary agreement reached by PREPA with its bondholders, and approved last week by the Island's Oversight Board, to restructure $9 billion of debt. If finalized, the agreement would serve as an important first step for PREPA to overcome its insolvency. And, if adequate oversight and management best practices finally are implemented at PREPA, the private sector may find Puerto Rico's energy sector a more attractive investment opportunity.
Jeffrey Karp is a partner and Kevin Fink is a law clerk with Boston-based law firm Sullivan & Worcester LLP.
[1] Thomas Emmons, Partner, Pegasus Capital Advisors; James Spiotto, Managing Director, Chapman Strategic Advisors LLC; David Svanda, Principal, Svanda Consulting.