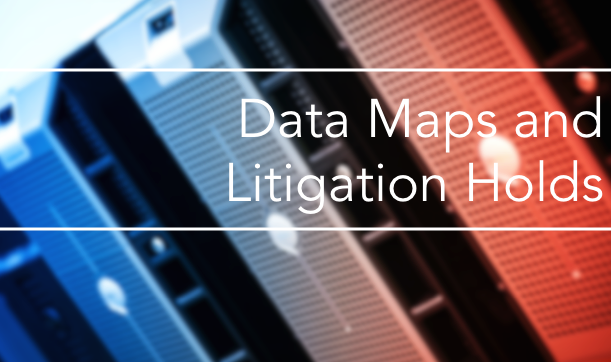 A "data map" is a comprehensive inventory of an organization's IT systems and paper record storage locations. It includes the locations of all electronically stored information (ESI) maintained by an organization. The existence of a data map is useful – if not critical – for implementing a litigation hold because the organization must be able to identify all of the documents and ESI to be preserved, what people control and have access to those materials, and where the materials are located. When information is scattered across departments and controlled by various individuals, the data map can help guide the way.
Data mapping starts with an understanding that ESI, unless restricted, can easily become voluminous and may be stored anywhere within the organization. Employees in various departments may use different systems and software depending on the nature of their work. According to the Electronic Discovery Reference Model (EDRM), "[y]ou can't secure it if you can't find it. An essential component to a successful electronic discovery project is an accurate picture of the target company's data sources."
Having a data map in place when it comes time to implement a litigation hold has numerous benefits, such as:
Determining the scope of what needs to be preserved (and ultimately collected)
Understanding the complexity of preservation.
Determining the associated costs of preservation.
Providing an understanding of internal resources (to timely and effectively preserve data versus the utilization of outside service providers).
Determining what is considered accessible versus inaccessible information or legacy systems or information (and thus might be outside the scope of preservation).
Enabling a faster and more detailed response to the lawsuit or subpoena.

Allowing more effective communication with outside counsel.

Facilitating productive discussions and negotiations with opposing counsel regarding the scope of preservation and discovery.
Reducing the risk of inadvertent loss of data (whether through routine practice and/or with the handling of departed employee data).
Companies with a well-maintained data map can more easily guide their counsel to the areas where important documents or other materials are likely to be found. The data map can be as simple as a Word or Excel formatted document or more complex depending on your needs. It also should be stored anywhere that is easily accessible by those who need to reference it quickly.

Data mapping can be highly complex depending on each company's unique situation. The map may be customized to address unique situations and molded into a variety of formats as appropriate.