Part of what makes Sullivan such a unique place is our people, so we'd like to introduce you to some of them in a series of posts. We asked associates around the firm why they chose Sullivan and what their experiences have been like since joining us.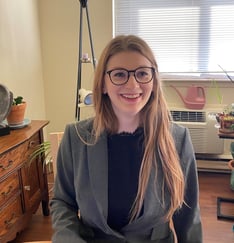 Jillian Friedmann worked as a Summer Associate prior to receiving her J.D. from Boston College Law School in 2020. While in law school, she was Executive Comments Editor for the Boston College Law Review, and also served as a legal intern to the Committee for Public Counsel Services at the Quincy District Court. She is currently a first-year associate.

Why did you choose Sullivan?

I choose Sullivan because it offered the challenging work and the resources of a bigger firm, but the closer-knit environment of a smaller firm. I wanted a firm where I could build my career and see myself working there long-term.

Has your experience been what you expected?

Mostly, yes. The work has been interesting and, at times, more hands on than I was expecting. The culture and collegiality is also what I expected, and everyone I work with is always incredibly appreciative of one another.

How is/was the first-year program?

The first-year program has been very informative. I am currently in the middle of the first-year rotation, and it has been great getting to see what types of work and what the day-to-day is like for different practice groups.

Read Jillian's full biography here.