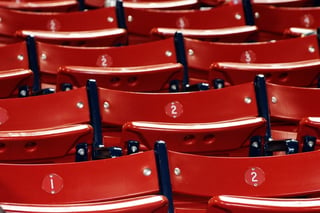 As the Boston Red Sox head into the home stretch of this 2017 baseball season, we Red Sox fans – a naturally dour and fretful bunch – worry whether this team is built for success in the upcoming MLB playoffs. After all, a very similar team – to wit, the not-ready-for-prime-time 2016 Red Sox – appeared on the October stage and proceeded to stink out the joint, getting swept 3-0 by the Cleveland Indians while delivering the worst group performance since the movie Waterworld was released. For sheer group ineptitude, the only comparable recent event was watching the Republican Senate try to fix Obamacare. Yeesh.
So here we stand, peering over the shoulder of Red Sox VP Dave Dombrowski, as we try to figure out what tweak, what acquisition, will make the 2017 Red Sox ready for this year's playoffs. Another relief pitcher? A home run hitter? Frankly, I think the most badly needed addition is the spirit of Don Baylor in the clubhouse.
Back in 1986, a highly talented but chronically-underperforming Red Sox team (sound familiar?) battled their way to the World Series against the New York Mets and came within one strike of winning that long elusive MLB championship. (It was another 18 years before "The Curse" was lifted.) I covered that 1986 team as a sportswriter for Worcester Magazine, and I thought the single biggest factor in the Red Sox success that year was "Judge" Don Baylor and his clubhouse "kangaroo court."
Baylor was traded to the Red Sox just before the start of the 1986 season, and was acquired at least in part to provide that most elusive of qualities, leadership in the clubhouse. Baylor started his court after the first game of the season – a sloppily played loss to the Detroit Tigers – and immediately began laying down the law.
Whenever the Red Sox players (or their coaches) did something notably boneheaded – which, being the Red Sox, was often – Baylor would convene a hearing, put the perpetrator in the docket, and act as Judge (as well as chief prosecutor). A defendant stood accused of some fundamental violation of the (largely unwritten) rules of the game. Rest assured that Baylor was a hanging judge – fewer than five percent of the accused were acquitted. The fines were minor in the scheme of things – ranging from $1 to $100 – and the point of the court was to teach players how to respect the game and play it properly.
What constituted a punishable offense? Baylor was merciless on mental errors committed on the field. Missing a steal or bunt sign. Throwing to the wrong base. Missing a cut off man on a throw from the outfield. Losing track of the number of outs. Failing to get a runner home from third base with less than two outs. Giving up a hit on an 0-2 pitch. All of these were subject to an automatic $5 fine.
On the other hand, Baylor NEVER punished a player for making a fielding error – he viewed physical mistakes as part of the game, and so he focused on mental errors, which he felt were often the difference between winning and losing.
Although fines were regularly assessed for mental lapses on the field, other violations had to do with the way Red Sox players comported themselves in the clubhouse and in public. Baylor was a stern enforcer of the surprisingly complex social etiquette of major league baseball. Baylor fined players for eating food in the clubhouse before the game – after was ok, but not before – and for failing to wear a jacket and tie on commercial flights (this was back in the 1980s before the Red Sox had a team plane). Baylor was a stern enforcer of rules against fraternizing with friends on the opposing team – you had two minutes to talk and that was it.
I stood with Don Baylor, in late August 1986, beside the batting cage at Fenway Park while Red Sox players took batting practice before a Sunday game, and interviewed him about the principles of jurisprudence that guided his court. He knew I was lawyer and it was a lot of fun. [Click here to read the original article.] It was a sparkling New England day, at once sunny and crisp, and during the interview Bill Buckner stepped out of the batting cage and said, "What a beautiful day to play baseball."
(Roughly two months later Buckner became forever infamous for booting a ground ball at first base that allowed the Mets to win the Sixth Game of the 1986 World Series, but I remember thinking at the time, "Baylor would not fine him for that. Physical errors are part of the game.")
Between taking his pre-game cuts, Baylor explained that there were no written rules in his Court whatsoever – but claiming that you did not know the rules was NEVER an adequate defense. The procedural rules were whatever Baylor decided. A player was free to defend himself against the charges – but if you defended yourself and lost the fine was doubled. Almost nobody ever won an appeal.
Players who chose to appeal the charges usually represented themselves, although a few players, if they thought they had a good enough case, would ask team captain Jim Rice to represent them. (Rice was the proverbial clubhouse lawyer, but only took on the most defensible of cases.) In Baylor's court the burden of proof was on the defendant – everyone was guilty until proven innocent, and almost nobody was ever found innocent.
Rice, in addition to providing an occasional cameo as defendant's attorney, also collected the fines. It was a clever move on Baylor's part – he avoided undercutting Rice's status as the team captain. (It also meant the fines were paid promptly.)
Baylor came to the major leagues in 1970, and was a green rookie in the Baltimore Orioles clubhouse then ruled by the founder of clubhouse courts, Frank Robinson. Judge Robinson fined players for swearing or otherwise not comporting themselves like major league baseball players. Robinson gave Baylor his first major league "trophy" – a toilet seat painted red, which Baylor received, together with a fine, for losing his composure and not acting like a big-league ballplayer.
Baylor's 1986 kangaroo court specialized in swift and merciless justice. In the famous game when Roger Clemens struck out 20 Mariners to establish the all-time major league record for a single game, Baylor assessed a $5 fine against Clemens for giving up a hit on an 0-and-2 pitch. When Steve Lyons, then a Red Sox outfielder, was thrown out stealing third on his own with the tying run on first, Baylor wacked him (deservedly) with a maximum fine. Another time Lyons – a repeat offender in Baylor's court – was fined $5 for putting on black greasepaint under his eyes to protect against glare on a day when Lyons was not in the starting line up.
By sad coincidence, Don Baylor passed away on August 7, 2017. The ghost of Baylor's presence is sorely missing from this 2017 Red Sox team – a highly talented but extremely young team where maturity sometimes seems desperately lacking. The most publicized event so far this year – by far – was an off-the-field confrontation between pitcher David Price (he of the $217 million contract), and Red Sox broadcaster (and legendary Hall of Famer) Dennis Eckersley. For about 10 days in July this confrontation was the ONLY topic on sports talk radio in Boston, with the fans weighing in about 99 to 1 in favor of the popular Eckersley.
Luckily for everyone concerned, Price soon went onto the disabled list, the Red Sox went on a winning streak, and the public relations disaster simmered down, but the fall-out from this entirely avoidable event is probably not over. It is genuinely hard to know whether the Red Sox would be better off with Price on the disabled list or Price (and the revived controversy) back on the field during the playoffs.
And would this lingering debacle have occurred with Don Baylor in the clubhouse? No. Zero chance. Dan Shaugnessey of The Boston Globe, who reported the original incident between Price and Eckersley, also related a story early in his career, while covering the Baltimore Orioles, when he had a somewhat similar confrontation with an Orioles pitcher, who later awkwardly apologized – most likely at the behest of then-veteran Brooks Robinson. Brooks Robinson, like Don Baylor, was a stalwart in the Orioles clubhouse shaped by Frank Robinson and his kangaroo court – a clubhouse that taught players how to comport themselves professionally both on and off the field.
Every time the Red Sox behave like the young, talented but strikingly immature team that they are, Sox fans should say a silent prayer to invoke the memory of Don Baylor. In recent weeks, we have seen Jackie Bradley lose track of the number of outs in an inning, and we have watched Andrew Benintendimake rainbow throws to home plate from the outfield instead of hitting the cut-off man. Suffice it to say that Baylor would have known how to address the situation.
Baylor, by the way, retired in 1988 holding what was then the modern (post-1900) major league record for being hit by a pitch (HBP), which happened to him a total of 267 times. One of Baylor's absolute ironclad rules was, when you were hit by a pitch, you ran to first base and you DID NOT RUB THE SPOT WHERE YOU WERE HIT. Rub it and it was an automatic fine in Baylor's court.
When Baylor retired, a reporter noted that Baylor had set the all time record for HBP, and asked Baylor which one of them hurt the most. Baylor replied, "None of them."
Don Baylor. RIP.