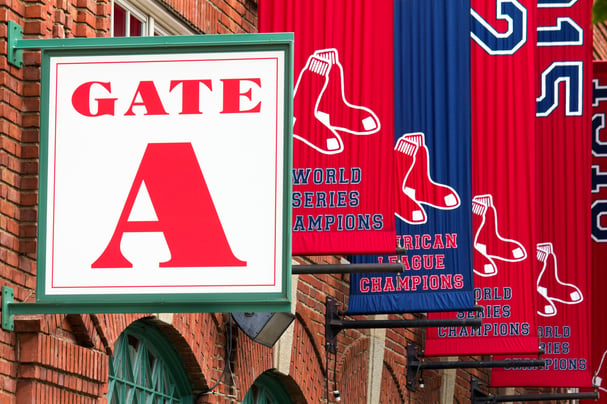 The following is an audited and certified report on the Boston Red Sox covering that portion of the 2016 fiscal baseball year through today's date.
The Red Sox are unquestionably better – miles and kilometers and even light-years better – than they were during the dismal years of 2014 and 2015, but the question that lingers, like a heavy scent of garlic, is whether this year's pitching staff, which looks depressingly similar to last year's pitching staff except at the very beginning (David Price), the middle (where else would you put Drew Pomeranz?) and at the very end (Craig Kimbrel), is really and truly enough improved to make this year's iteration of the Olde Towne Team a real contender as opposed to a mere pretender. At the moment, the needle is leaning slightly on the pretender side of the cosmic scale, but there remains enough baseball left in this season that a contender could yet emerge from the erratic and distaff patterns that have thus far characterized the Red Sox season.
First the upbeat news: The Red Sox batting orde
r is doing its part, and the fielders are doing their part, to make this a championship-caliber team. The hitting has been almost scarily good so far, and last year's bevy of young-but-developing players have now fully developed -- including Xander Bogaerts, Mookie Betts, anda better-late-than-never appearance by Jackie Bradley, Jr. – all of whom are emerging as both fielding and batting stars of the first rank.
Bogaerts is possibly the toughest out in the American League this year – unless it is Ortiz or Jose Altuve of the Astros – and he seems likely to become a Joe DiMaggio-level right-handed hitter, especially when his power finally kicks in, which it will. Betts hits and fields like a force of nature – he is a lot like Willie Mays, and I know exactly what that comparision means – and he is the player I would least want to trade of the three. And Bradley is crushing the ball while playing a magnificent center field, as will be addressed more fully in a moment.
Perhaps a little more startling, though no less gratifying, have been the batting performances of Hanley Ramirez and David Ortiz, both of whom have improved dramatically on their inauspicious 2015 seasons. Ramirez, to be fair, was put in an untenable position – otherwise known as left field – after spending almost all his previous major league career at shortstop, and he simply floundered. Put it this way: if Hanley were playing leftfield that badly on a little league team, the little league coach would have tactfully suggested a switch to soccer. There are some things in life that you really wish you just didn't have to see: horrific race-car accidents, ISIS videos, Donald Trump speeches, or any tape of Hanley Ramirez playing left field.
Ortiz, meanwhile, was so clearly washed up at the plate during the first half of last season that I wondered if he might just decide to retire in the middle of the season – or, for that matter, in the middle of a game. He looked AWFUL at the plate. This year – the opposite. Ortiz, in fact, has been hitting the ball as well as at any time in his career, and his ostensible plan to retire (he announced before spring training his intention to quit at the end of the season) simply has to be up for serious reconsideration. No one hitting as well as Ortiz is hitting the ball right now should be anywhere but in the batter's box.
This team can also – let me tell you – field the ball. Jackie Bradley is possibly the best defensive centerfielder in all of baseball, and there are some outstanding defensive centerfielders in the game just now, including Kevin Kiermaier, Mike Trout, Andrew McCutchen and Lorenzo Cain. So yes, as always, knowledgeable baseball fans can debate this issue until the beer tap runs dry, but I personally think it comes down to a choice between Bradley and Kiermaier, and I would take Bradley.
By the way, there is on YouTube a video of Jackie Bradley, made after Bradley bet a teammate that he could throw the ball from home plate into the centerfield bleachers at Fenway Park (over a 20 foot wall 420 feet away) – and then proceeded to do it. As Casey Stengel used to say, you can look it up – the video was posted on YouTube on July 20, 2014. I watched it about ten times recently and it is simply mind-boggling.
Mookie Betts, who is darn near as talented in the field as Bradley, is the ideal person to be prowling the spacious and unforgiving confines of rightfield at Fenway Park. Dustin Pedroia is a gold-glove quality second baseman, Bogaerts has become a reliable shortstop in every respect, and Travis Shaw is an absolute surprise at third base – he makes the plays, both hard and easy, and his throws to first arrive like rockets.
Our last and final stop is the on pitcher's mound where the only verdict that can be rendered at this point in the season is the famous Scottish jury verdict: Not Proven. David Price, all $217 million worth, has fluctuated from very good to uneven to downright lousy, and so there is there is plenty about which a true Red Sox fan can gnaw and worry like a hound with a bone. Rick Porcello, last year's expensive and almost forgotten acquisition, has pitched decently for the most part, although it will take a full, solid season to erase the painful memories of 2015. Steve Wright, the knuckleballer, has been – by far – the most reliable starter, and nothing more succinctly captures the Red Sox pitching dilemma than that statement: No baseball team EVER wants to be in the position where a knuckleballer is its most consistent starter.
After that, the pitching rotation is just plain scary. Joe Kelly came back from injury, immolated himself a couple of times, and was sent down to the minors to reinvent himself as a relief pitcher. Clay Buckholtz proved beyond any shadow of a doubt that he belongs in the bullpen (and not even really there, except for his expensive salary and his always inexhaustible "potential"), and Eduardo Rodriguez, a promising young lefty who pitched very well last year, has been mostly bad. Drew Pomeranz? Meh. He pitched pretty well in his second start on Monday night against the Detroit Tigers, but he gave up a towering home run to Jose Iglesias at exactly the wrong time, which is shades of Porcello circa 2015. Starting pitchers who join the Red Sox almost never seem to do well initially – John Lackey, Josh Beckett, Porcello, and now Price, all had disappointing commencements as denizens of Fenway – and Pomeranz looks like more of the same.
The bullpen got a real upgrade with Kimbrel, who is pretty unhittable when he is throwing strikes – which, after a rock start, has been most of the time. Kimbrel is coming back from the DL, Junichi Tazawa is also coming back, and Brad Ziegler was a good pick-up late in the season. Koji Uehara will forever be a fan favorite at Fenway – he was one of the top five reasons they won it all in 2013 – but now, in his early 40s, he seems chronically beset with injuries. Currently on the DL, Uehara's status is one of the great unknowables at this point in the season – he could be a dominant late-inning pitcher or he could be a cipher. Who can begin to guess at this point?
So: This Red Sox team is entertaining, hits the ball well, fields the ball even better, but does not have consistent pitching, and the hard-as-real-diamonds truth is that baseball always comes down to pitching. That does not augur well for the Red Sox, unless the following things happen: 1) Price gets his act together; 2) Porcello continues to trend positive; 3) Steve Wright continues to pitch well and eat up innings; 4) Pomeranz pitches well; and 5) Dombrowski trades more of the Red Sox farm talent for a top pitcher.
Who might we get? Chris Sale would cost a ton but would make the Red Sox a serious championship contender immediately. (By the way, I don't care that he cut up his Chicago White Sox "throw back" uniform – if I were required to wear that uniform I might have done the same thing.) Other pitchers less talented then Sale? One would help but it would probably not be enough. Two good starters would be enough – so long as they don't succumb to John Lackey Disease and immediately stink out the joint.
The one thing I expect for sure is the Sox GM Dave Dombrowski will make some serious trades. He has a cupboard full of young talent and not that many places to put it – he needs to trade either Yoan Moncada or Pedroia, and soon, and I would rather keep Pedroia and trade the young super talent as a major downpayment toward acquiring Chris Sale.
Remember when the Red Sox acquired a guy named Curt Shilling? Exactly. Pull the trigger and let's go win another championship.