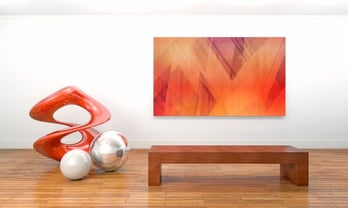 A rather stunning near–catastrophe almost occurred in the art world recently, and only dumb luck – namely, a casual off-hand remark with a savvy tax adviser – saved the art owner from a huge, self-inflicted tax bill from the Internal Revenue Service. A non-U.S. taxpayer (meaning a non-resident alien in tax parlance) had an extremely valuable painting being displayed in a U.S. museum or gallery and, for a variety of reasons, he wanted to transfer the painting to his spouse, who is also a non-resident alien. Let's assume for the sake of argument that the painting was worth $50 million. Because the gift was from a non-resident alien to his non-citizen spouse, and the property was tangible property located or situated within the United States at the time of the transfer, this transfer would have been subject to tax the U.S. gift tax regime, at a tax rate of up to 40%. WHAAAAATTTTT???!!!
Moreover, because the property was being transferred to a non-citizen spouse, the unlimited marital deduction that is normally available for marital transfers under Code Section 2523(a) did NOT apply. Instead, the gift was eligible only for the deduction contained in Code Section 2523(i), which is calculated as an amount equal to 10 times the annual exclusion for gifts under Code Section 203(b) (which is currently $14,000). Because of indexing vagaries, the actual gift exclusion under Section 2523(i) for 2017 is $149,000, but clearly, $50 million minus a $149,000 exclusion leaves a whole lot of taxes on the table – approximately $20 million under the current estate and gift tax regime.
THUD!
Needless to say, once the tax adviser was able to pick the potential donor up off the floor and revive him with smelling salts, the transfer did NOT take place – at least not until after the property was safely removed from the United States.
This is an objectivity lesson to all non-resident aliens who have valuable art on loan to U.S. museums, U.S. galleries, or otherwise situated in United States and who want to make sensible everyday garden-variety transfers to family members.
The short answer is: DON'T! Get some good tax advice first.