Part of what makes Sullivan such a unique place is our people, so we'd like to introduce you to some of them in a series of posts. We asked associates around the firm why they chose Sullivan and what their experiences have been like since joining us.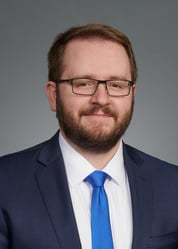 Brandon Schneider is a first-year associate in Sullivan's Boston office. While in law school, Brandon was a Lead Articles Editor for the Washington and Lee Law Review. He served as a legal intern for the Honorable Paul M. Black at the U.S. Bankruptcy Court for the Western District of Virginia and as an extern for the Honorable Robert M. D. Turk at the Montgomery County Circuit Court in Virginia. Brandon previously served as the Director of Research for the White House Transition Project.
Why did you choose Sullivan?
I chose Sullivan because I wanted to work in a mid-sized firm that cared about its associates and supported them in their professional development.

Has your experience been what you expected?
I have found Sullivan to be an incredibly collaborative environment where partners are willing to roll up their sleeves and get involved in the work with the associates, ensuring that associates get as much out of each experience as they possibly can.
What makes Sullivan different from other firms?
When I was looking for firms, I wanted to find one that allowed me to have a work-life balance. Sullivan has been incredibly supportive of associates finding that balance and has realistic expectations of their associates.

How is/was the first-year program?
The first-year program has been an incredibly helpful experience to help me understand the different departments and how they work together on complicated multidisciplinary issues. The first-year program has allowed me to experience different areas of law that I otherwise would have never understood, and has helped me notice potential issues that would touch on other areas of law.
Read Brandon's full biography here.