Part of what makes Sullivan such a unique place is our people, so we'd like to introduce you to some of them in a series of posts. We asked associates around the firm why they chose Sullivan and what their experiences have been like since joining us.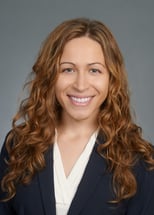 Caroline Lambert is an Associate in the Corporate Department of Sullivan's Boston office.
Caroline focuses her work on regulatory compliance, government investigations and white-collar defense, corporate internal investigations, and investigations and proceedings before administrative, legislative, and self-regulatory agencies including the SEC and FINRA. Caroline also helps develop effective compliance and supervisory procedures. On the transactional side, Caroline works with our capital markets group representing issuers and broker-dealers in financings, capital markets transactions, and mergers and acquisitions.
Why did you choose Sullivan?
Sullivan was recommended to me when I was a 1L and starting the OCI process. This recommender knew both me and the firm well and thought it would be a good fit because of how the partners at Sullivan and the firm culture places an emphasis on respecting individuals as people and concurrently as attorneys with valuable contributions.

Has your experience been what you expected?
In some ways, yes, and in other ways, not at all. But unexpected experiences aren't always a bad thing. Some of my favorite experiences have been ones I didn't expect.

What makes Sullivan different from other firms?
One thing I really appreciate at Sullivan that I think is unique to us is the respect you receive from partners and other associates from the very beginning and that your insight is valued and appreciated. You will get the chance to work with partners early on here, and I have always felt like a valued member of a team whose contributions are appreciated. As a junior attorney, that support has really helped me grow my own confidence.

What have you been working on lately?
Lately our clients have been busy with many uplists to Nasdaq and other capital markets work. There has also been an increase in regulatory compliance work, whether it be investigations by the SEC or FINRA or keeping up with the multitude of recent developments in the law.
Read Caroline's full biography here.