Part of what makes Sullivan such a unique place is our people, so we'd like to introduce you to some of them in a series of posts. We asked associates around the firm why they chose Sullivan and what their experiences have been like since joining us.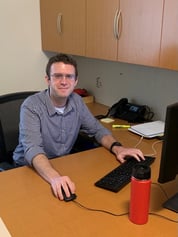 Matt Bailey is a first-year associate in Sullivan's Boston office, and joined the firm after working as a Summer Associate. He received his J.D. from Boston College Law School in 2020, where he was Editor-in-Chief of the Uniform Commercial Code Reporter-Digest. Also while in law school he served as a judicial intern for the Honorable Robert B. Foster at the Massachusetts Land Court.
Why did you choose Sullivan?
Sullivan's first-year rotation program drew me to the firm. Although I knew before starting law school that I wanted to work in a transactional area, I was uncertain which practice appealed to me. The rotation gives first-year associates the opportunity to make an informed decision.
How is/was the first-year program?
The first-year rotation through different practices has been massively helpful for building relationships, especially in the remote work environment. The rotation has also given me an opportunity to work in niche areas I otherwise would never have seen, such as investment funds and REIT taxation. Attorneys and staff in each practice have been enthusiastic about getting me involved on assignments, even though I may be in each department for only a few months.
What makes Sullivan different from other firms?
Sullivan is unique in that it offers the benefits of a mid-size firm, while still handling sophisticated work traditionally encountered at larger law firms. The firm's size means junior associates earn substantive responsibilities quickly and have the opportunity to learn directly from senior attorneys.
Read Matt's full biography here.