Part of what makes Sullivan such a unique place is our people, so we'd like to introduce you to some of them in a series of posts. We asked associates around the firm why they chose Sullivan and what their experiences have been like since joining us.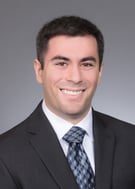 Ryan Rosenblatt has represented a variety of commercial and individual clients in both State and Federal Courts, as well as in Bankruptcy proceedings, AAA Arbitration, pre-trial proceedings before the Massachusetts Appellate Tax Board and administrative hearings before the Massachusetts Department of Unemployment Assistance.
Why did you choose Sullivan?
I wanted a medium-sized Boston based firm where I could settle in and build my practice from the ground up. I met such wonderful people during the hiring process that I knew this would be a place I could feel very comfortable with my colleagues and still work on top-notch matters. Between the size, location, people, caliber of work, commitment to pro bono, and the first year rotation, it was a no-brainer!
Has your experience been what you expected?
Absolutely. I'm one of only 4 litigation associates in Boston, which means I have a tight-knit network of peers to work with day to day. I also work closely with multiple partners, and have since I first joined the department. With so few associates, it's a common occurrence that I am the only associate working a case, which really jumpstarted my development early. I had direct client contact almost immediately after joining the department and I got to participate in a trial just three months after placement. The experience has been exactly what I expected since OCI.
Did you consider another firm? If so, which one(s) and why?
I came close to joining another firm located in Worcester with a similar, if smaller, profile to Sullivan. In the end, I decided that Boston was a better fit, and Sullivan offered more room for growth and, candidly, prestigious work. It also certainly didn't hurt that the people at Sullivan were so friendly!
How is/was the first-year program?
The first year rotation was exactly what I wanted it to be: a confirmatory experience that I'm a litigator at heart! I enjoyed the program because it let me try out a bit of everything, knowing I had a strong interest in litigation, to make sure I wasn't locking myself into a career path without experiencing alternatives first. I also deeply appreciated the social value that it provided. By physically moving offices every quarter, I got to explore the various departments, meet nearly every attorney across the Boston office, and make connections with support staff. It definitely contributes to the firm feeling like a unified community.
What makes Sullivan different from other firms?
I can't think of any other firm that offers something like the first year rotation – it's definitely a standout characteristic! I also think (as corny as it may sound) that the people here are what set us apart. I've become extremely close friends with several of my colleagues to the point that we even (gasp) hang out in non-work situations. The secret takeaway from that sentence is that we actually have time for a life outside of work!
What have you been working on lately?
I've been working on a AAA Arbitration in Boston for the volunteer board of managers of a private golf club, an upcoming federal bench trial for the reformation of a severance contract, defending a chain of car dealerships from a putative state court class action, and working on a pro bono matter to help an indigent individual obtain unemployment benefits at the MA Department of Unemployment Benefits. I'm also gearing up to jump into a new bankruptcy case in Delaware that will have a significant litigation component.
Read Ryan's full biography here.