I am very pleased to tell you that Robert Franklin has joined the firm. Robert is a former colleague and joins us as senior counsel in the finance team in London, where his role is to expand and help lead the project finance practice.
With nearly 20 years' experience advising sponsors, lenders, investors and public authorities in relation to infrastructure and energy projects, Robert has worked across renewable energy, power, social infrastructure, telecommunications, transport and natural resources.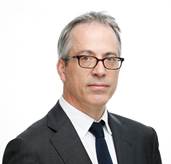 He has advised on numerous projects outside the UK, with a particular focus on Sub-Saharan Africa, complementing well the firm's existing finance practice.
Robert's advice in relation to debt products and capital structures includes greenfield and brownfield assets, as well as other limited or non-recourse financing techniques, such as acquisition finance, asset finance and reserve-based lending; as well as secured and unsecured corporate lending.
Since 2015, Robert has been an advisory board member of Invest in Africa, a not-for-profit organisation which promotes SME development in Ghana, Kenya and Senegal through a range of market interventions including web-based platforms and capacity-building training.
Please find further details about his practice here and please don't hesitate to get in touch with Robert on rfranklin@sullivanlaw.com or your usual contact at the firm.