Part of what makes Sullivan such a unique place is our people, so we'd like to introduce you to some of them in a series of posts. We asked associates around the firm why they chose Sullivan and what their experiences have been like since joining us.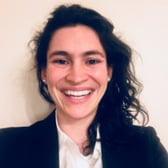 Rachel Gants worked as a Summer Associate in 2019 prior to receiving her J.D. from Harvard Law School in 2020. While in law school, she was a member of HLS's Tenant Advocacy Project, and also interned for Justice Richard Stearns at the United States District Court for the District of Massachusetts. Proficient in Spanish, Rachel was a Yale University Fox Fellow from 2012 to 2014 at the El Colégio de Mexico in Mexico City, Mexico.
Why did you choose Sullivan?
I chose Sullivan for the opportunity to join a high-level practice, with respected attorneys domestically and internationally. But more importantly, I joined Sullivan because of the firm's culture and the priority it places on building community and mentoring attorneys early in their careers. Even beyond the summer associate program and early in the first year, I've been consistently impressed by the time Sullivan attorneys take to attend social, pro bono, and mentoring events. It's an incredible community to join early in your career, and I'm looking forward to continuing to learn more from colleagues and to find more ways to support pro bono work and new attorneys as I continue with my time at Sullivan.