The SEC adopted technical rule and form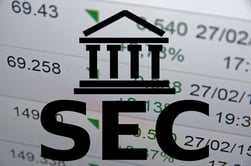 amendments (https://www.sec.gov/rules/final/2017/33-10332.pdf) under the JOBS Act that impact almost every periodic report and registration statement by adding an additional "check the box" item on the covers (as well as the introductory language prior to such item.
Specifically, in the section where companies check off what type of issuer they are, there is now a new box for emerging growth company ("EGCs" - they will also still check the other relevant box for accelerated filer, smaller reporting company, etc.). In addition, to provide a uniform way to identify if EGCs have elected to take advantage of JOBS Act rules permitting them to defer adoption of accounting standards, the covers will also include an additional check the box item regarding such election. An example is below.
These rules go into effect as soon as they are published in the Federal Register, which should be in the next few days – in other words, for upcoming 10-Qs for the quarter ended March 31, 2017, companies will need to reflect this change (if not sooner for other reports). The forms impacted include, among others: S-1, F-1, S-3, F-3, S-4, S-8, S-11, 20-F, 8-K (note this was not previously on the 8-K cover at all), 10-K, 10-Q – see the end of the rule release linked above for the forms and formats.
Example:
Indicate by check mark whether the registrant is a large accelerated filer, an accelerated filer, a non-accelerated filer, smaller reporting company, or emerging growth company. See the definitions of "large accelerated filer," "accelerated filer," "smaller reporting company," and "emerging growth company" in Rule 12b-2 of the Exchange Act.
Large accelerated filer
􀀀
Accelerated filer
􀀀
Non-accelerated filer
􀀀

(Do not check if a smaller reporting company)

Smaller reporting company
􀀀
Emerging growth company
􀀀
If an emerging growth company, indicate by check mark if the registrant has elected not to use the extended transition period for complying with any new or revised financial accounting standards provided pursuant to Section 13(a) of the Exchange Act.
Inflation Changes for EGCS and Crowdfunding Amounts:
The JOBS Act requires the SEC to revisit certain definitions that contain dollar amounts to index them for inflation every 5 years. These include the $1 billion revenue threshold in the EGC definition, as well as certain limits in Regulation Crowdfunding on the dollar amount raised and invested. As a result the technical rule amendments have now raised each of these amounts slightly. For example, to qualify as an EGC, an issuer's revenues must now be less than $1,070,000,000 and the maximum amount of crowdfunding in any 12 month period cannot now exceed $1,070,000 (increased from $1 million). With respect to the EGC definition, many issuers describe this definition in their registration statements or periodic reports and should be mindful to make the updates to such description.
Other Changes:
The technical amendments also update various rules in Regulation S-K and S-X (in areas such as required financial statements, MD&A, executive compensation and others) to include references to various JOBS Act provisions that benefit EGCs. These are not new rules, but make it more convenient when checking the rules for particular filings to see what applies (or more likely does not apply) to EGCs by directly including instructions within the applicable rule provisions.