By: Jeffrey Karp, Zachary Altman and Caroline Lambert
In the nine months since Hurricane Maria, substantial progress has occurred in bringing Puerto Rico's power grid back online. Some consumers with access to solar microgrid systems regained power as soon as a few days after the storm, while others who relied on traditional energy sources had to wait for the power grid to be repaired. Solar microgrid systems are unique; they offer solar-powered electricity in parallel with the traditional energy grid but can also disconnect from the grid in times of crisis and provide solar-powered energy to a smaller subset of consumers.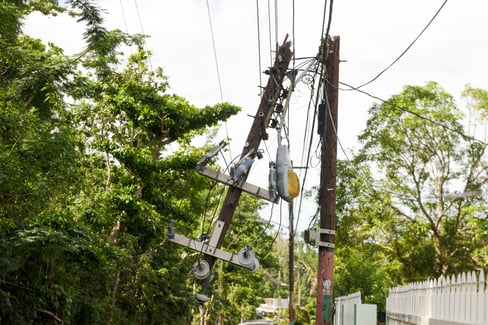 Ninety-five percent of the island's consumers have had their electricity restored. Those still without power are concentrated largely in rural, hard-to-reach areas. In reality, though, while those without power number around 13,000, Puerto Rico's entire population still is reeling from the effects of Maria. The damage sustained to homes and businesses remains overwhelming and quick fix solutions such as throwing tarps over gaping holes in roofs have become the status quo. Fear of recurring blackouts and the difficulty of persevering through the recovery process has fundamentally impacted the lives of Puerto Ricans. Thousands have fled the island, and the NY Times reported that many who remain have altered their everyday habits, such as only buying a few days' worth of groceries at a time to guard against spoilage in the event of another power outage.
A variety of players have assisted in Puerto Rico's power restoration efforts: the federal government, corporates, states and the Puerto Rico Electric Power Authority ("PREPA"). Immediately after Maria, the U.S. Army Corps of Engineers (the "USACE") and the Federal Emergency Management Agency ("FEMA") spearheaded the restoration and repair efforts. The USACE provided personnel to coordinate and manage those activities and to perform engineering and disaster-related relief, which included the delivery of over 1,000 generators to the island. More than 700 of these generators, including three "mega-generators" large enough to power hospitals and critical facilities, remain on the island ahead of the hurricane season.
Also, the USACE, with monetary and logistical support from FEMA, contracted with companies such as Fluor Corporation to perform restoration projects. Fluor reports that it installed over 493 miles of conductor wire and repaired or replaced close to 7,800 power poles. Several other companies, including Tesla, Sonnen, and Blue Planet Energy, donated and installed solar microgrid systems near community centers, water pump stations, critical infrastructure centers, and hospitals, where power grid resilience is particularly crucial. Six weeks after Hurricane Maria, PREPA requested assistance from a number of mainland states, a process that often begins in anticipation of a natural disaster. Shortly thereafter, crews of engineers, workers, and supervisors, along with equipment and replacement materials, arrived from Arizona, California, Florida, Massachusetts, and New York, and worked alongside the USACE and PREPA.
Despite its poor procurement track record, PREPA's primary involvement with restoration projects has been to coordinate private sector contracts. Symptomatic of the ill effects of PREPA's poor management, one of the companies with whom it contracted, Cobra, a subsidiary of Mammoth Energy, caused over a quarter of the island to plunge back into darkness. Cobra had employed a subcontractor to conduct restoration projects on the southern coast of the island. In April, the subcontractor's excavator hit a major distribution line, which altered the voltage causing eight major plants to fail and leaving 870,000 people without power for two additional days. Following this incident, Puerto Rico's Governor Roselló implored PREPA to cancel its contract with Cobra, the cost of which already had been increased on three occasions and ballooned to almost five times the original amount.
The instability of the island's power grid before the hurricane was further exacerbated by the emergency fixes and stop-gap repairs made in Maria's wake. PREPA's CEO Walter Higgins has stated that projects to adequately strengthen the grid will take years to complete and cost between $5 and $8 billion. And, any hope of long-term assistance from USACE or FEMA was dashed when both federal agencies announced, at the start of the 2018 hurricane season, their impending departure from the island, thus leaving PREPA in charge of the daunting grid modernization task.
Fortunately, the Department of Energy ("DOE") has worked with PREPA and recently released a report entitled "Energy Resilience Solutions for the Puerto Rico Grid." The report recommends reducing dependence on fossil fuels and increasing reliance on natural gas and renewable energy, along with updating the infrastructure with monopoles, which are single-tower steel transmission towers. Monopoles are much more resilient than traditional lattice towers and withstood Maria's wrath effectively. The report also urged Puerto Rico to begin establishing renewable energy microgrids for enhanced resilience and reliability. DOE's report states that "microgrid investment has the potential to be more cost effective than alternative system upgrades to harden the system for improved function and reliability." Solar energy sourced microgrids also are said to be more resilient in many ways: solar panels are easy to replace, the energy is generated right where it is consumed and does not need to travel long distances to reach consumers, and panels come back online as quickly as the sun can rise after a storm without having to wait for grid repairs.
The DOE's findings regarding microgrids are consistent with prior experience in Puerto Rico, albeit on a limited scale. Solar-powered microgrids were implemented before Maria, and fared well during the storm. The Casa Pueblo community and ecology center, located in a rural section of Puerto Rico, installed microgrid solar panels over twenty years ago. Although FEMA was unable to reach Casa Pueblo's mountain city of Adjuntas for weeks after the storm, Casa Pueblo regained power immediately after Maria passed. The community thus had electricity, and could provide food, water, tarps and medical treatment. As the DOE report notes, microgrids sourced by renewable energy can be deployed across the island and have the potential to curtail blackouts and prevent the months-long disruption to the electric system as occurred after Hurricane Maria. The DOE already has acted on its report recommendations, launching a pilot program to install half-a-dozen microgrids on the island in an effort to lessen weather-related risk and attract more outside investment.
Further, noting that the island's grid is a "highly fragile and vulnerable system," on June 20, 2018, Governor Rosselló removed from PREPA's bailiwick the grid restoration by signing a bill to privatize the state-owned utility. The bill enables PREPA to sell its power generation plants and assets, seeks to facilitate public-private partnerships to modernize the power grid, and prevents a single entity from monopolizing the entire energy system. Many legislators view privatization as an opportunity to boost Puerto Rico's economy while building a resilient and energy-efficient grid. Others prefer that PREPA be overhauled and remain in government hands, fearing that privatization will lead to higher prices for a dwindling customer base. Puerto Rico's Power Union also has expressed skepticism that the grid's low consumption rate coupled with its substantial infrastructure needs will dissuade private sector investors from entering into public-private partnerships as the bill envisions. Even some analysts who favor privatizing Puerto Rico's power system have expressed concern that the bill enables the government to retain excessive controls over the envisioned private electric utilities.
A further concern is that the legislation fails to address PREPA's and the Commonwealth's bankruptcy status. The risks posed by the enormous debt make potential private sector investors nervous about repayment, although some of the obligations likely will be satisfied by PREPA's sale of its assets and power plants. Also, both the DOE and Puerto Rico's Financial Oversight and Management Board have projected that over $60 billion in federal funding will be provided to the island during the next decade, some of which likely will be earmarked for updating the energy grid.
On the heels of privatization, the Puerto Rico Energy Commission ("PREC"), the independent body created by Puerto Rico's legislature to oversee the island's energy policies and reforms, has promulgated regulations for microgrid development. Under these regulations, PREC will oversee a bidding process and select applicants to develop microgrid systems. While it is too soon to prognosticate the manner in which the private sector will respond to these regulations, corporates already have expressed interest in providing the technologies for the next phase of the rebuilding process. AES Corporation, which operates both a coal plant and solar plant on the island, repeatedly has suggested that a regionally-based microgrid system be implemented. Tesla also remains committed to the island's energy development, and has discussed installing a back-up, high-capacity battery storage system for solar energy sourced microgrids that would provide alternative power in the event of another blackout.
Presently, patience is the name of the game. It is unknown whether recent legislative and regulatory developments will facilitate the necessary level of private sector involvement to successfully rebuild and strengthen Puerto Rico's power system.