By Kevin Fink
Sullivan counsel recently participated in the "Grid Scale Energy Storage Summit," part of the expansive Hydrovision International conference held at the end of June in Charlotte, North Carolina. For the first time on an international scale, the Summit brought together both energy storage and hydropower experts from around the world for the purpose of debating, among other things, the future role of hydropower in the mix of energy storage options.
In addition to Sullivan and other counsel, energy sector participants included representatives from the U.S. Department of Energy, renewable energy trade associations such as the Solar Energy Industries Association, and Regional Transmission Organizations ("RTOs") and Independent System Operators ("ISOs"). The hydropower industry was represented by a variety of trade associations including the National Hydropower Association, International Hydropower Association, and the Low Impact Hydropower Institute.
The energy storage industry is growing exponentially in the United States. Total installed capacity exceeded 1,000 MWh in 2017 – a record amount – and energy storage is forecast to add an additional 1,000 MWh capacity in 2018. As a result, energy industry experts in both the private and public sectors are grappling with how best to manage energy storage's role in the electrical grid as well as capitalizing on the maturing industry.
Discussions focused on the role of energy storage in addressing new challenges to the reliability of the electric grid posed by increasing reliance on wind and solar, the implications and adequacy of new policies and regulations that have created expanded opportunities for energy storage participation in interstate markets, and whether sufficient market demand exists to encourage the pairing of "pumped hydro" with other renewable technologies such as wind and solar. "Pumped hydro" facilities are currently the predominant form of energy storage, and typically operate through the storage of water in one or more reservoirs. During periods of peak electricity demand, water from an upper reservoir is released to a lower one and moves through turbines to generate power. In instances of low demand, low-cost electricity from the grid is used to pump water back up into the upper reservoir.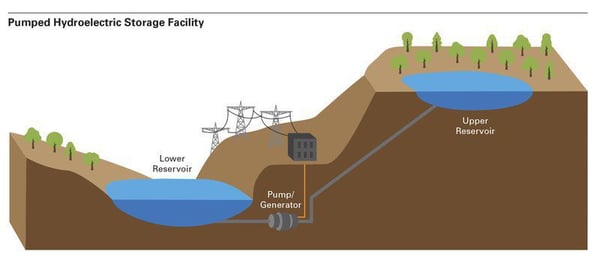 A common theme throughout the Summit was the expression of frustration by the hydropower industry that while "pumped hydro" has existed since the 1920's and currently accounts for 97% of the nation's installed energy storage capacity, current regulatory policies tend to encourage the development of newer, not yet matured energy storage technologies such as batteries, compressed air, and flywheels. A consensus emerged regarding the need for a level playing field so that all energy storage technologies, including "pumped hydro," are utilized to their greatest potential. It was further agreed that stakeholders and the public need to be educated regarding the untapped potential of "pumped hydro" and that the public's perception of "pumped hydro" is often associated with large, conventional hydropower (which involves larger impacts from both an environmental and financial perspective) rather than smaller, local projects which can present lesser environmental impacts and financial burdens.
In conclusion, although the deliberations largely focused on hydropower's role in the emerging energy storage market, there were many key takeaways that apply to the energy storage industry beyond just hydropower. Of particular interest was the February 2018 FERC Order 841, which directed RTO/ISOs to establish "participation models" for energy storage. While viewing Order 841 as a favorable start in terms of establishing a regulatory framework for energy storage, most conferees expressed the desire that FERC take a more expansive approach in the Order and set more explicit requirements governing "participation" and "interconnection," but also acknowledged that each ISO/RTO region has different needs and resources to address those needs.
Kevin Fink is a law clerk with Boston-based law firm Sullivan.