Few art law cases have received as much attention as that of Richard Prince and his dispute with Patrick Cariou over the latter's Yes, Rasta photographs that Prince altered, defaced, and otherwise rearranged for his Canal Zone series. Prince has now garnered renewed attention for his appropriation of Instagram images in a set of works he has been selling at a Gagosian Gallery show called "New Portraits" (and in various other venues over the last few months). He escaped liability for infringement of Cariou's pictures (though the case settled after remand; several infringement claims were still in play when the parties settled). Can he do so again? If this recent effort is not infringement, it certainly begs the question of whether the fair use exception has swallowed the rule. Lastly, Instagram itself may have prohibited the entire exercise in its terms of use, a possible avenue to short-circuit the entire copyright exercise.
In 2011, Cariou sued Prince and won a permanent injunction and an order that Prince's works be impounded and destroyed. In 2013 the Second Circuit reversed, focusing on the "purpose and character" factor of § 107 of the Copyright Act, or what has become known as the transformativeness test, particularly with respect to visual art. The Second Circuit found as a matter of law that twenty five of the works by Prince were clearly transformative. They contrast "crude and jarring" appearance with Cariou's "serene" photographs of "natural beauty", as well as palette, scale, and media differences. I analyzed the 2013 opinion here, which I won't repeat now. But the takeaways were that Prince's total disinterest in his own meaning, and the troubling reliance on Prince's upper market clientele, threw the question wide open in a way that very few analysts and commentators find helpful. Put another way (paraphrasing the Dread Pirate Roberts), anyone who tells you they know definitively what fair use is, is probably selling something.
Not terribly surprisingly, this is not the last word from Prince. He is currently putting on a show that consists of other people's Instagram photos, blown up to large wall size, sometimes with Prince's comments below. An example is here: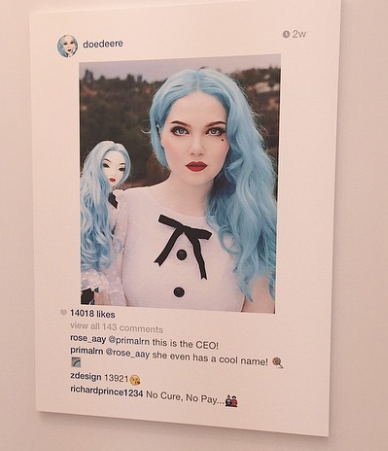 This user DoeDeere was apparently already found by reporters, and she disclaimed any interested in pursuing Prince for infringement. But what if someone else were so inclined?
At a basic level, Prince's Second Circuit victory clears away the need to ask why he did any of this. What of the transformation itself?. It's not clear if Prince actually logged into Instagram and made the comment post, or if the newer work is itself an alteration of the existing Instagram post. That could make a great deal of difference. If Prince took an existing image, let's say of kittens, then added some sexualized comment, he would be certainly in the neighborhood of the Cariou decision logic, such as it is, from the standpoint of transformation (kittens are to pornography as Roy Orbison is to 2LiveCrew, or something like that). But if all he did was print out a comment thread of which he was a part (within Instagram), he would have to argue that the original online comment was the visually transformative element, or that merely making a larger printout suffices. That would effectively abolish copyright on the Internet, which seems unlikely.
There is little question that Prince is the agent provocateur in all this, and playfulness is an important part of free expression, whatever you think of him. And given the scale and publicity, there may well yet be litigation by one or more of the original photographers under copyright. At the same time, photographers in particular feel under siege and unsure of how much they can protect their work. But something almost no one thinks about because of their ubiquity, is the terms one agrees to even by venturing onto social media. The Instagram Terms of Use state (bold added):
Rights
5. The Service contains content owned or licensed by Instagram ("Instagram Content"). Instagram Content is protected by copyright, trademark, patent, trade secret and other laws, and, as between you and Instagram, Instagram owns and retains all rights in the Instagram Content and the Service. You will not remove, alter or conceal any copyright, trademark, service mark or other proprietary rights notices incorporated in or accompanying the Instagram Content and you will not reproduce, modify, adapt, prepare derivative works based on, perform, display, publish, distribute, transmit, broadcast, sell, license or otherwise exploit the Instagram Content.
That is seemingly precisely what Prince has done. So even if he could claim fair use against the original photographer successfully, he may not be able to escape an old-fashioned contract third-party beneficiary argument. If Prince used Instagram (and a review of the site indicates that "@richardprince1234" is a real user), he agreed to its terms of use, and the other content providers could be the beneficiaries of that agreement (not to prepare derivative works).
Prince will clearly continue to push the envelope, so further twists and turns are all but certain.