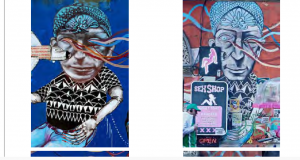 Back in October, we surveyed some developments in lawsuits over public art and protection available under copyright law in graffiti art. There has been some movement, and other developments, in these cases.
Read More
Topics: Ahol Sniffs Glue, Zero Theorem, Digital Milennium Copyright Act, David Anasagasti, Zappos.com Inc., Monty Python, Sara Bareilles, 15 U.S.C. § 1125(a), London, Terry Giliam, the Lanham Act, DMCA, Jason 'Revok' Williams, 17 U.S.C. §1202 et seq., Public Art, Graffiti Art, Romania, Vogue, Nordstrom Inc., Chicago, Trademark, Amazon.com Inc., unfair competition, Robert Cavalli, Victor 'Reyes' Chapa, Jeffrey 'Steel' Rubin, Copyright, Buenos Aires, Litigation, Ocean Grown, Wal-Mart, New York Magazine, Graffiti, California Business and Professions Code § 17200, Staff USA Inc.
After the 1998 Washington Conference on Holocaust Era Assets and the eponymous Washington Conference Principles on Nazi-Stolen Art that came out of it, it is hardly surprising that a recurring theme has been to assess the progress of those nations that participated and signed on. Equally unsurprisingly, those assessments are usually more anecdotal than empirical, and usually arise out of a particular case or cases in the context of that country's response.
Read More
Topics: Graham Bowley, Macedonia, Netherlands, Terezin Declaration, Mussolini, Latvia, Dr. Wesley A. Fisher, Hungary, ICOM, Bulgaria, Commission for the Compensation of Victims of Spol, Germany, Bavarian Minister of Culture, Nazi-looted art, Die Welt, Belarus, Lex Gurlitt, Washington Conference on Holocaust Era Assets, France, Dr. Ruth Weinberger, Romania, Baron Mor Lipot Herzog, Winfried Bausbeck, Belgium, Slovakia, Vichy, World Jewish Restitution Organization, Bundesrat, Washington Conference Principles on Nazi-Stolen Ar, Gurlitt, WJRO, NS Raubkunst, Restitution, International Council of Museums, Norway, United States, Luxembourg, Looted Art, World War II, St. Petersburg, Poland, beschlagnahmte Kunst, Ukraine, Austria, Serbia, Conference on Jewish Material Claims Against Germa, Italy, Bosnia, New York Times, Monika Grütters, Slovenia, Estonia, Museum and Politics Conference, National Gallery, Museum of Fine Arts, entzogogene Kunst, Czech Republic