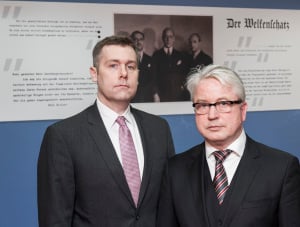 It has been almost two weeks since I filed my clients' claims for restitution of the Guelph Treasure (Welfenschatz).
Read More
Topics: Maria Altmann, Frankfurter Allgemeine Zeitung, National Socialists, Third Reich, artdaily.org, Reuters, United States Supreme Court, Guelph Treasure, Gestapo, Haaretz, Deutschlandradio. Deutsche Presse Agentur, Robin Young, the Guardian, The Art Newspaper, Foreign Sovereign Immunities Act, The Wall Street Journal, Deutsche Welle, Santa Fe, KRQE News 13, the Observer, Markus Stoetzel, Die Erle, Mel Urbach, Nazis, Advisory Commission, 3SAT, ZDF, Stiftung Preussischer Kulturbesitz, Washington DC, Hermann Goering, Private Wealth, Restitution, Sullivan & Worcester LLP, Here & Now, Gerald Stiebel, World War II, Foreign Sovereign Immunities, flight tax, Süddeutsche Zeitung, Adolf Hitler, United States District Court, The New York Times, Federal Republic of Germany, BBC News Europe, Alan Phillip, Welfenschatz, NPR, PrivateArtInvestor, ArtNet news
There have been multiple and conflict reports in the last 48 hours about whether the Kunstmuseum Bern had reached a decision to accept the inheritance from and appointment as heir by Cornelius Gurlitt. Gurlitt, who died in early May shortly after reaching an agreement with the Bavarian prosecutor concerning the 1,280 works of art seized from his apartment on suspicion of Nazi-looting connections, unexpectedly named the Swiss museum as the sole beneficiary of his will, and as his heir and representative. Just last week, the news was that the Kunstmuseum had resolved to decide by late November, no later than six months after being advised of Gurlitt's bequest.
Read More
Topics: Reuters, Schwabinger Kunstfund, Hildebrand Gurlitt, Cornelius Gurlitt, Nazi-looted art, Gurlitt Collection, Tages Anzeiger, Munich, Christoph Schäublin, Restitution, Bavaria, Ruth Gilgen Hamisultane, World War II, Swiss, Austria, Sonntagszeitung, Kunstmuseum Bern, Berner Zeitung, Zürich, Nazi Raubkunst, Münchner Kunstfund