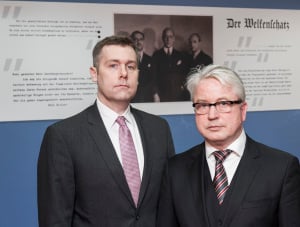 It has been almost two weeks since I filed my clients' claims for restitution of the Guelph Treasure (Welfenschatz).
Read More
Topics: Maria Altmann, Frankfurter Allgemeine Zeitung, National Socialists, Third Reich, artdaily.org, Reuters, United States Supreme Court, Guelph Treasure, Gestapo, Haaretz, Deutschlandradio. Deutsche Presse Agentur, Robin Young, the Guardian, The Art Newspaper, Foreign Sovereign Immunities Act, The Wall Street Journal, Deutsche Welle, Santa Fe, KRQE News 13, the Observer, Markus Stoetzel, Die Erle, Mel Urbach, Nazis, Advisory Commission, 3SAT, ZDF, Stiftung Preussischer Kulturbesitz, Washington DC, Hermann Goering, Private Wealth, Restitution, Sullivan & Worcester LLP, Here & Now, Gerald Stiebel, World War II, Foreign Sovereign Immunities, flight tax, Süddeutsche Zeitung, Adolf Hitler, United States District Court, The New York Times, Federal Republic of Germany, BBC News Europe, Alan Phillip, Welfenschatz, NPR, PrivateArtInvestor, ArtNet news
I filed yesterday a new civil action against the Federal Republic of Germany and the Stiftung Preussischer Kulturbesitz (the SPK, which is responsible the administration of the Berlin museums, among other things) in the United States District Court in Washington, DC. You can read the Complaint here. The lawsuit seeks the immediate restitution to my clients of the collection held by the SPK known as the Welfenschatz, or as it is referred to in English, the Guelph Treasure. My clients Gerald Stiebel and Alan Phillip are the blood relatives and successors to the consortium of Jewish art dealers who were threatened and forced by the National Socialist government into selling the Welfenschatz in 1935.
Read More
Topics: Maria Altmann, National Socialists, Third Reich, Philipp v. Federal Republic of Germany et al. 15-c, United States Supreme Court, Guelph Treasure, Gestapo, Foreign Sovereign Immunities Act, Markus Stoetzel, Mel Urbach, Nazis, Advisory Commission, Stiftung Preussischer Kulturbesitz, Washington DC, Hermann Goering, Restitution, Sullivan & Worcester LLP, Gerald Stiebel, World War II, flight tax, Adolf Hitler, United States District Court, Federal Republic of Germany, Alan Phillip, Welfenschatz
Read More
Topics: Maria Altmann, National Socialists, Third Reich, Philipp v. Federal Republic of Germany et al. 15-c, United States Supreme Court, Guelph Treasure, Gestapo, Foreign Sovereign Immunities Act, Markus Stoetzel, Mel Urbach, Nazis, Advisory Commission, Stiftung Preussischer Kulturbesitz, Washington DC, Hermann Goering, Restitution, Sullivan & Worcester LLP, Gerald Stiebel, World War II, Foreign Sovereign Immunities, flight tax, Adolf Hitler, United States District Court, Federal Republic of Germany, Alan Phillip, Welfenschatz