It has been a great source of pride that in the last year, the Art, Cultural Institutions and Heritage Law Committee of the International Bar Association has remained active and engaged with issues of art and cultural property law despite the pandemic. We had a very exciting in-person program organized and ready to go for June, 2020 at the Ecole du Louvre, where I snapped this picture in February 2020 expecting to be back just four months later. Fate intervened, of course, but with thanks to my co-chair last year Giuseppe Calabi, and my co-chair starting January 1 of this year Anne-Sophie Nardon, we have held a webinar in June, a panel at the IBA's Virtually Together conference, and stayed active in our publications and newsletter. Cultural property and commercial art law certainly hasn't taken a break for the pandemic, and while I very much miss our in-person gatherings, it has allowed us to reach new members and grow the ranks of our officer team. We are ever larger and more diverse, with officer representation from every continent except Australia (and Antarctica--so far!).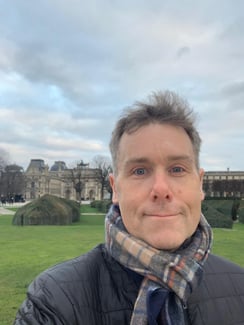 Our momentum continues next month with a three-part series, two of which are webinars followed by networking sessions, and the third of which is an open roundtable. The event is free for IBA members, or a nominal fee for non-members (hint: join us!) at this registration link. Here are the schedules, I hope to see you there:
Wednesday 14 April 2021
Pay no attention to the information behind the curtain: due diligence and how to prevent art disputes.
Moderators: Olivier de Bacque (Committee Senior Vice Chair) and Angell Xi (Committee Senior Vice Chair) Jingtian & Gongcheng (Shanghai)
Panelists: Anne Laure Bandle, Borel & Barbey (Geneva); Davina Given, Reynolds Porter Chamberlain (London); Sharon Hecker, Art Historian (Milan); and James Ratcliffe, Art Loss Register (London)
Wednesday 28 April 2021
Can we do better than pistols at dawn? Resolving art disputes through mediation and arbitration
Moderators: Giuseppe Calabi, CBM & Partners Studio, (Milan); and Klaus-Jürgen Kraatz, (Committee Vice Chair), Kraatz & Kraatz (Kronberg)
Panelists:
Noor Kadhim, Armstrong Teasdale LLP (London); Stan Putter, Smallegange, Court of Arbitration for Art (Rotterdam); Steve Schindler (Committee Regional Representative North America), Schindler Cohen & Hochman (New York); Karen Sanig, Mishcon de Reya (London)
Wednesday 12 May 2021
Roundtable discussion: art law in the time of Covid-19
Moderators: Committee co-chairs Anne-Sophie Nardon (Borghese Associes (Paris); and Nicholas M. O'Donnell, Sullivan & Worcester LLP (Boston)