Last fall we had occasion to address the extent to which public displays of art and attempts at controlling the content of them can run afoul of the First Amendment. In that case, public outrage at artwork submitted by controversial Native American activist Leonard Peltier, who was convicted of murdering in 1975 two FBI agents, led to the removal of Peltier's paintings by the public agency that had organized the exhibition.
A new controversy in Colorado has underscored similar First Amendment concerns. On March 15, an exhibition of high school student art opened at the Wellington Webb Municipal Building in Denver. One tenth grader submitted a painting that has set off a firestorm. The background of the painting shows an American flag, which is peeling away at the center to reveal a Confederate battle flag. On the left of the frame, a figure in a police uniform and a KKK hood points a gun at the figure on the right—a small child of color wearing a hoody, evoking Travyon Martin. The painting was submitted in answer to a question to create works placing in context such disparate images as Goya's El Tres de Mayo 1808 (The 3rd of May, 1808)—and more recent "A Tale of Two Hoodies" by Michael D'Antuono. Visually, the raised hands of the child and the axis of the Confederate flag echo the composition of the white-shirted figure in Goya's image just as he is about to be executed—itself a canonical treatment of the relationship between authority and violence.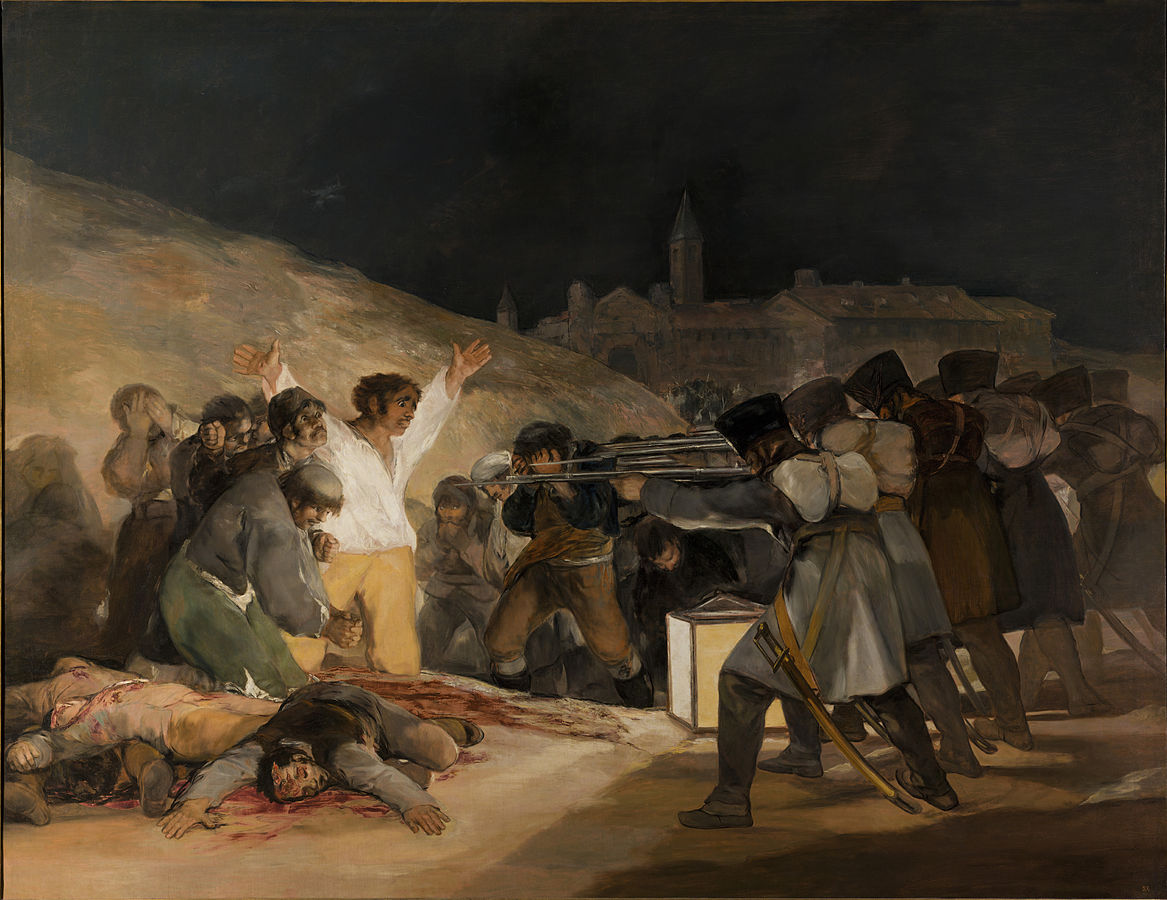 El Tres de Mayo 1808, by Francisco Jose de Goya y Lucientes (1814)
Responses were not far behind. "This is not freedom of expression but an attempt to peddle hateful and racist trash as art! It is a racist message against police officers!" said former city manager Butch Montoya, in an e-mail to the Denver Post. Police Chief Robert White was quoted as saying "I'm greatly concerned about how this painting portrays the police. I look forward to having a conversation with the student and her parents." A representative of the Denver Police Protective Association also expressed sharp criticism.
This is extremely troubling, particularly given that the student apparently agreed after a private meeting to remove the painting from the show. It also echoes the Peltier controversy, in which law enforcement personnel went out of their way to criticize the art—as the First Amendment guarantees their right to do—resulting in the removal of the art.
Here is the First Amendment problem: just like Peltier in Washington, the Denver building was opened as a forum for expression. There are "traditional public forums," like public parks, sidewalks and areas that have been traditionally open to political speech and debate—which enjoy the strongest First Amendment protections. The government may only impose content-neutral restrictions as to time, place, and manner of speech (only during daylight hours, no amplification, etc.), it may not engage in viewpoint discrimination (no pro-war speech, no anti-war speech). Any restriction of speech in such a forum will be reviewed with strict scrutiny and will survive only if it serves a compelling state interest.
Next, there are "designated public forums," in which the government opens public property for expression that is not ordinarily a forum for public expression. The government may close a designated public forums at any time, but so long as it is available, it must be content neutral in the same manner as a traditional forum.
Lastly, government may limit access to a "limited public forum" to certain kinds of expression or speech. Even though the government may discriminate against certain classes of speakers, it still may not discriminate based on viewpoints.
The Denver show is a designated public forum, and the artist was targeted by the government for pressure because of his or her view, while other content deemed acceptable is allowed to stay. Even more troubling for the power dynamic at work is the fact that the artist is a child.
Keep this in mind: the right to burn the American flag is protected by the Constitution in an opinion joined by none other than Antonin Scalia. It guarantees the right to make difficult and unsettling statements so long as they are not direct incitements to violence or destruction. The Denver piece is a carefully constructed visual comment on canonical works, in service of an indisputably controversial message about police violence and minority communities. Equally so, many people will find the comparison outrageous and offensive. As with Peltier, that balance seems to have gotten lost in the mix.